November 2002
Sniper suspect Malvo is Jamaican
Seventeen-year-old John Lee Malvo, who was arrested as one of two suspects in the Washington-area sniper shootings is Jamaican. THE Jamaica Ministry of Foreign Affairs and Foreign Trade released a statement declaring that a "Lee Boyd Malvo" was born in Kingston, Jamaica, on February 18, 1985 to Una James, of St. Elizabeth, and Leslie Samuel Malvo, of St. Andrew. According to investigations by the Ministry, a Lee Malvo attended high school in Jamaica before emigrating at age 13 years to another, unidentified, Caribbean island. "Local school records show no evidence of disruptive behaviour and point to the attainment of an academic standard that was satisfactory," the release stated. The father and half-brother of Lee Malvo still reside in Jamaica and have been bombarded by the international media.
Records show that the other sniper suspect, 42-year-old John Allen Muhammed was born in Louisiana. Unfortunately there is another Caribbean connection as his mother is from Antigua and he lived there for a year in 1999. This is where he probably met the young Lee Malvo. The co-owner of the specially rigged Chevy Caprice killing car is also a Jamaican. The FBI is holding him as a material witness but have not charged him in the shootings.
The arrest of these two suspects has put an end to a death spree which saw thirteen people shot, 10 killed, and adults and kids of the Washington-Maryland-Virginia area being virtually held hostages in their homes by fear and terror. Two of the victims killed were from the Caribbean. The last victim, Conrad Johnson, killed on October 22, was Jamaican. One of the earlier victims, killed on October 3, 72 year-old Pascal Charlot was from Haiti.
Jamaican community aghast
Jamaicans everywhere are disturbed, ashamed and embarrassed to learn of this Jamaican connection to these brutal wanton killings. And not just Jamaicans, but black people everywhere. Snipers and mass murderers are supposed to be white. Besides, we black people have enough bad stereotypes to struggle against almost every day. But, we must keep things in perspective. I remember an American white friend complaining to me and almost demanding an explanation for some horrible vicious cowardly act by a Jamaican. I replied, "I wish that all Jamaicans were as nice as me, but unfortunately, as with every other ethnic group or nationality, we too have good ones, bad ones and some very crazed vicious ones too." We need to keep that perspective in mind here too. At least US Supreme Court Justice Clarence Thomas is not Jamaican.
---
Crucial general elections were held in both Trinidad and Tobago and in Jamaica.
Trinidad and Tobago
In T&T the political deadlock was broken when the People's National Movement (PNM) clinched victory by a 20 -16 majority in a keenly contested election. The PNM wrested control of the crucial marginal seats of Ortoire/Mayaro and San Fernando West from the United National Congress.
The UNC's Winston "Gypsy" Peters who previously held the Ortoire/Mayaro seat was defeated by some 244 votes when the final ballots were tallied in that constituency.
The bigger upset however, came in San Fernando West where the PNM's Diane Seukeran toppled UNC party organiser Sadiq Baksh. In a neck-and-neck race to the finish, Seukeran beat Baksh by a 247-vote margin.
Newcomers Citizens Alliance (CA) and the Democratic Party of Trinidad and Tobago (DPTT) failed to make any significant impact.
Panday to quit
UNC leader Basdeo Panday took the defeat with announcement that he was retiring. He refused the position of Leader of the Opposition but agreed to stay on until a successor is found. Panday also announced he would resign as a MP within three years to allow the party to choose a successor in time for the next general election, expected in 2007.
Jamaica
PJ Patterson led the People's National Party (PNP) to a close victory in the 2002 General Election, getting an unprecedented fourth term as Government.
It crept to victory by taking an estimated 35 of the 60 seats in the House of Representatives. Subsequent recounting trimmed the PNP victory to 34 to 26 seats. Compared to the previous election, The Jamaica Labour Party (JLP) lost one of the 12 seats it had but grabbed another 14.
In that previous general election of December 18, 1997, the PNP won 50 seats to 10 for the JLP. Voter turnout on a day which was rainy throughout most of the island, was described as "moderate". There were 1.3 million voters on the list. There were 176 candidates in the election, the PNP and the JLP fielding 60 each. The voter turnout then was 771,068 or 65.22 per cent of the 1,182,294 voters on the list.
Characteristic of the election campaign, the results had some surprises. High among the upsets is the defeat of Colin Campbell, Minister of Information, and MP for St. Andrew Eastern, by first-timer St. Aubyn Bartlett, brother of Edmund Bartlett whom he defeated in 1993. Anthony Hylton, Minister of Mining and Energy, also lost his St. Thomas Western seat to James Robertson of the JLP. And in Clarendon North Western, Richard Azan, a PNP newcomer, defeated Clifton Stone of the JLP, who had been the incumbent MP.
Seaga to stay
JLP leader Seaga will not take the defeat like Panday. He has been voted in overwhelmingly and remains fully entrenched by his MP's as Leader of the Opposition.
---
Vote for Shirley and
other pro-Caribbean candidates

Tuesday November 5 is election day in the US. Hot Calaloo urges its readers to not only vote but to help get out the vote. This election is probably almost as important to the Caribbean as an election in any Caribbean country itself. Vital Caribbean interests are at stake. Special good wishes to Maryland Delegate Shirley Nathan-Pulliam (in my area) as she seeks re-election and to all the other Caribbean candidates and friends of the Caribbean.

We are being bombarded by political advertisements and recently we have seen some strange outcomes as stalwarts in the black community, such as Cynthia McKinney, have been defeated. I urge readers not to be bamboozled. It might be a confusing babel, but look to vote for candidates endorsed by organizations that we know are fighting for us. Look for endorsements by NAACP, teachers organizations, unions, authentic environmental organizations, etc.. So forget endorsements by major media newspaper, TV and those slick television ads. But by all means vote as if the Caribbean's future depended on it because it does!
---
Venezuela is trading its oil with Cuba at a special low rate. Why? Because it is friends with Cuba. Venezuela is trading oil with many CARICOM countries at special low rates also as a gesture of friendship. Will the new FTAA jeopardize these "Friend " trade arrangements? CARICOM needs to fight not not only preserve this "Friend" trade but to promote friendship as a basis for trade deals. CARICOM can no loger sit back and react to US self-serving trade proposals and must instead be active in proposing our own arrangements.
CARICOM needs to do more within the CARICOM market itself. For example:
Price and other obstacles may explain the first two questions, but CARICOM should be working frantically to remove these obstacles. The fact is that CARICOM needs to organize to take better advantage of its own internal market. We need to take a CARICOM view of our markets instead of individual country view. We need some serious coordination and the potential rewards are great. We need to do this before the FTAA ties our hands.
---
Buy Caribbean - Caribbean overseas residents as a market
Caribbean residents living overseas probably exceed the numbers living in the Caribbean. It is time we take the trade problems in our own hands. Very little Caribbean products are imported here in the US. Let us Caribbean overseas residents change that ourselves. Lets but more Caribbean products. Buy from the internet.
Yes, lets buy Caribbean. Already we buy stuff at Caribbean stores. But, let us be resolved to buy more. I, myself always have a bottle of Jamaican "Pickapepper" sauce at hand. I see Desnoes and Geddes (D&G) drinks showing up at the Safeway supermarket. Instead of Coke, I now buy D&G ginger beer or Kola Champagne. (D&G have some really nice new juices. Pineapple ginger is my favorite. Look out for all of them.)
Red Stripe beer is gaining popularity in US but I have yet to see it at Jamaican restaurants. I only see Puerto Rican rums at Caribbean restaurants too. Why and price alone should not be sufficient justification. But, at the same time, why does Jamaican rum have to be so much higher than others?
Christmas is a-coming
Christmas is a-coming. Buy Caribbean products for presents ( off the Net if you have to). Buy a book as a present by a Caribbean author and support Hot Calaloo too right here. So let us make a personal commitment to seek out Caribbean products and buy them year round. Remember "every lickle mek a mickle….."
---
US foodstuff break Cuban embargo
Some big cracks have developed in the the US embargo of Cuba and American foodstuffs are pouring in. More than $100 million worth of U.S. agricultural goods -- from wheat, corn and chicken to apples, eggs and butter -- has arrived since last November, when the island's communist leaders began buying food from their archenemy 90 miles away.
The four-decade-old U.S. trade embargo against President Fidel Castro's government still stands, although Cuba, which is dependent on food imports, can buy agricultural products for cash under a U.S. law passed in 2000.
A Canadian entrepreneur, who has sold chicken to Cuba for years, voiced the opinion of many business people from his country and Europe who have enjoyed trading with one of the few countries left on Earth where there is no U.S. competition.
"I'm throwing in the towel and going back to selling cars in the Dominican Republic. The U.S. companies are dumping poultry on the market at ridiculously low prices and there is no way I can compete," he said.
A Havana food processing company said they used to buy chicken from state-run food importer from Canada for about $1.20 per kilogram (2.2 pounds), and now gets the U.S. version for less than 70 cents a kilogram. Even Castro reportedly has nothing but praise for the more than half a million tons of U.S. food that has arrived to date. The veteran revolutionary has been wining and dining dozens of visiting U.S. lawmakers and businessmen this year.
The first trade show in Cuba by U.S. agribusinesses, officials and farmers on Sept. 26 in Havana's Pabexpo exhibition center was a big success. The four-day event attracted The New York-based organization said agribusiness giants such as Archer Daniels Midland , Cargill and Hormel Foods were among more than 150 companies participating, The U.S. Meat Export Federation, U.S.A. Rice Federation, other national farm groups and at least 10 state agriculture departments, various ports and shipping companies as well as maverick Minnesota Gov. Jesse Ventura.
Editor's Comment: American apples! Why are they buying apples and other foodstuff that could easily be grown in Cuba itself? They are buying a lot from US but selling nothing. Now, they too like Jamaica, will have a lopsided adverse balance of trade and see their precious limited hard currency go streaming into the US.
---
Antigua and Barbuda cry foul at US bill
Look out Las Vegas! Internet gambling is cutting into your profits. Antigua and Barbuda are poised to reap the benefits as they are 3rd or 4th biggest in the world of internet gambling. This gambling it brings in a lot of revenue and employs some 800 persons. But all this might evaporate if the big powerful US has its way. The big powerful US casinos have used their muscle to set US policy, just like big corporations routinely do. So now they are trying to make it illegal for US citizens to gamble on the internet.
Already , the US House of representatives has passed the Leach-LaFalce Internet Gaming Act on October 1st to do just that. It awaits passage by the US Senate and eventual signature by President Bush to become law. Of course they do not admit that this is because of the casinos' influence but instead try to use some obviously bogus justification to make their case.
---
Obesity is fast becoming a worldwide epidemic. Unfortunately like the rest of the world, the Caribbean too is facing increasing problems with obesity. In the Caribbean , according to statistics for the incidence of obesity in women, Jamaica leads with 63%, followed by Barbados 58%, Guyana 56%, T&T 54% and Dominica 48%.
For men its not nearly as bad. The British Virgin Isles lead with 25-30%, followed by the Bahamas 25%, Cayman Islands 20-30%, Jamaica 12-20%, T&T 10-16%, and St. Vincent and the Grenadines 10 –14%.
Sixty-four percent of U.S. Adults are overweight or obese. (1999-2000)

Overweight and obesity are commonly determined by the ratio of height to body weight. This ratio is called Body Mass Index (BMI). The National Institutes of Health (NIH) identify overweight as a BMI of 25-29.9, and obesity as a BMI of 30 or greater. However, overweight and obesity are not mutually exclusive, since obese persons are also overweight. Defining overweight as a BMI of 25 or greater is consistent with the recommendations of the World Health Organization and most other countries.
How do you stack up? To find out check out the table below: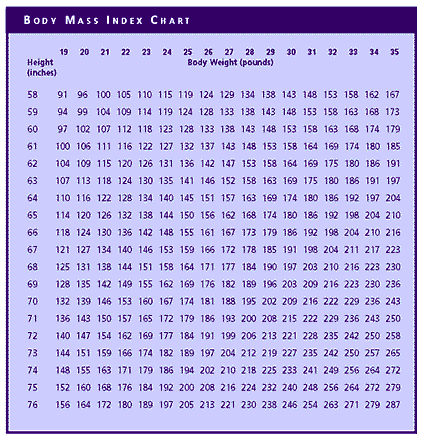 (I was concerned about my classification based on this table, but overweight can be due not only to fat but being very muscular. I did not realize that I was that muscular.)
Consequences
However overweight and obesity are not just for looks, but they are known risk factors for:
diabetes
heart disease
stroke
hypertension
gallbladder disease
osteoarthritis (degeneration of cartilage and bone of joints)
sleep apnea and other breathing problems
some forms of cancer (uterine, breast, colorectal kidney, and gallbladder).
In addition, they are associated with:
high blood cholesterol
complications of pregnancy
menstrual irregularities
hirsutism (presence of excess body and facial hair)
stress incontinence (urine leakage caused by weak pelvic-floor muscles)
psychological disorders such as depression
increased surgical risk.
---
Once again Honduran fishermen have been arrested for fishing in Jamaica's territorial waters. This time 16 men ranging in ages from 16 to 41 were captured by the Jamaican Coast Guard. The fishing boat "Thunder Rich" escaped leaving behind the men in dinghies to face capture.
---
"There's an old saying, in the days of slavery, there were those who lived on the plantations and there were those slaves that lived in the house…You got the privilege of living in the house if you served the master…exactly the way the master intended you to serve him."
"Colin Powell's committed to come into the house of the master… When Colin dares to suggest something other than what the master wants to hear, he will be turned back out to pasture."
With these words in a radio interview in San Diego, Harry Belafonte set controversial sparks flying publicly between these two sons of Jamaican immigrants. The renown singer-actor-entertainer, Belafonte, is a civil rights activist who has always been a champion of the poor and disenfranchised. Powell is the US Secretary of State for George Bush and former chairman of the US Joint Chief of Staff. He has a distinguished military record and is currently doing PR for George Bush's war campaign against Iraq. For George Bush, Powell's black face has come in very handy in talking with the Arab world. Years ago he was even bandied as a possible Republican presidential candidate, but his "great popularity" amongst Republicans strangely plummeted the closer he came to declaring for the office. He, unlike Belafonte, has no record on civil rights.
Let us know what you think. Email us at hotcalaloo@yahoo.com
---
Dancing without a permit
The Pleasure Dome night club in Montego Bay, Jamaica, was packed. The featured dancers "shook and shimmied like my sister Kate". That was the end of resemblance to my sister Kate as these gyrating thong-clad dancers were four men. The women-filled club cheered them on, showing their appreciation by inserting dollar bills into their g-strings with great dexterity. However, among these cheering patrons, were some women from the Jamaica Immigration Service and on the job there in surprisingly large numbers. Reports are that every member of the regional immigration office was there. Such dedication! Those gyrating dancers had been imported and they were shaking their groove thing without a work permit. The jolly evening ended with the arrest of the dancers and the show promoter. The dancers were eventually freed with a stiff warning only, while the promoter faces charges for violation of Jamaica immigration work permit laws.
---
African-Americans hit new low
It is hard to believe that many African-Americans are continuing to see a movie that gains cheap laughs by ridiculing civil rights hero and icon, Rosie Parks. Of course bigots who exult in demeaning black people and destroying our heroes must love the division it has created in the black community. Thanks Jesse Jackson and Al Sharpton for speaking out for Rosie Parks and against the movie.
The movie is a hit. The black filmmakers are making a mint. Some black barbershop association, never heard of before, is suing Jesse Jackson and Al Sharpton for $61 million for their criticism of it. Rosie Parks had to fight white segregationists years ago, but I wonder how she will do against these treacherous black traitors. At first it might have been an error in judgement, but to continue without editing that indignity out of the movies after the damage it has caused, is unforgivable. If this is the best the new black filmmakers can do, then bring back StepN'Fetchit.
---
to whom it may concern:
this is my first time on your site and i notice that every article or comments about Jamaica and Jamaicans are negatives, and comments about other islands are positive and semi-positive. am i to believe that there are no positive events taking place in Jamaica or is it the purpose of this site to spread negativity about Jamaica?.
Paulpnthomas
Editor's Reply:
Hot Calaloo is determined to present the entire Caribbean in a positive light. We do not carry sensationalist stories about homicide, child molestation and that kind of thing. However, it is not a tourism tract and it would be negligent on our part to ignore the many problems the region faces. Not only do we carry those problem stories but our intent is to stir our readers to action in order to involve them in helping to solve these problems. Sometimes it is a delicate balance to inform about these problems and not appearing negative. You complained about the August 2002 update which was dedicated to Enid Davis, a Jamaican hero who lost her life helping poor Jamaicans. This article and several others were positive about Jamaica so I am puzzled at your impression.
---
Jamaican is 1st in US with Mad Cow disease
A 23-YEAR-old Jamaican woman, living in South Florida, is the first person in the United States to have contracted the deadly Mad Cow Disease. She was living in the United Kingdom up to age 12. She is a graduate of the University of Miami. She, who once weighed 108 lb, has lost more than 40 lb. and is unable to walk, talk, eat, communicate or perform any body functions. She is fed through a tube to the stomach.
---
WI cricket team bites the dust
Once again the West Indies cricket team has bitten the dust in test cricket. They have lost the first 2 test matches of the 3 scheduled on their tour of India. They not only lost, but were uncompetitive with battin, bowling and fielding. In the 2nd test, they dropped 10 catches.Lets hope there is a light at the end of this dark tunnel
The scores were as follows:
Test 1 at Mumbai (formerly Bombay)
India won by an innings and 112 runs
1st Innings: India 457 (V Sehwag 147, R Dravid 100); WI 157(Khan 4 for 41, Kumble 4 for 51)
2nd Innings: WI 168 (Harbhajan Singh 7 for 48)
Test 2 at Chennai (formerly Madras)
India won by 8 wickets
India leads the 3-Test series 2-0
1st Innings: West Indies 167 (Kumble 5 for 30); India 316 (V Sehwag 61)
2nd Innings: WI 229 (Sarwan 78, W Hinds 61, Harbhajan Singh 4 for 79); India 81 for 2)
Let us know what you think. Email us at hotcalaloo@yahoo.com
---