Jamaica succumbs to Trump threats on Venezuela
When Trump's UN ambassador Nicky Haley threatened nations who did not blindly follow the US on Un voting, Jamaica caved in. Now it has come out that Trump wanted to invade Venezuela and has led the fight to impose sanctions on that democratic country. But, Venezuela has been good to Jamaica and to many other countries. It is therefore good to see Lisa Hanna, the foreign affairs and foreign trade spokesperson for the Opposition Peoples National Party bravely come to its defense.
She also took up the mantle for the African, Caribbean and Pacific (ACP) nations, the present and former colonies of Europe now facing an uncertain future, with the critical Cotonou aid and trade pact set to expire in 2020.
Following are some edited excerpts of Hanna's Sectoral Presentation to Parliament on May 9, 2018:
Our preferential trade agreements under the PetroCaribe Fund graciously provided by the Government of Venezuela represents the largest loan with the best financial terms since Independence.
At one per cent interest rate, Venezuela provided Jamaica more than US$3 billion in loans.
The Venezuelan Government went even further, and accepted a US$1.5-billion settlement of our debt in July 2015, which not only reduced our debt to GDP ratio significantly, but also helped to improve our international financial standing in aggregate terms.
Jamaica's economic survival has been due in no small measure to the support and generosity of the Venezuelan people. From the insincere-sounding platitudes expressed during the visit of the then US Secretary of State (Rex Tillerson) — which sounded more like fawning than independent policy — it has been painful to watch this Administration's reluctance to take the lead in Caricom toward a unified position on Venezuela.
We must never abandon our friends or be seen under any circumstance to do the bidding of others trying to enforce their dominion on another sovereign nation. The Administration's…defensive response on foreign policy matters, especially viewed through the prism of recent actions, or more appropriately non-action, is conspicuously cautious and leaves certain questions unanswered.

Trump's threat to invade Venezuela could make America the great imperialist again
The threat of Donald Trump to invade Venezuela should not be taken lightly. This racist US president has broken treaties, pissed off allies, insulted countries, warned countries to be obedient to America and he has history on his side. There have been fifty-six military interventions in Latin America by the US.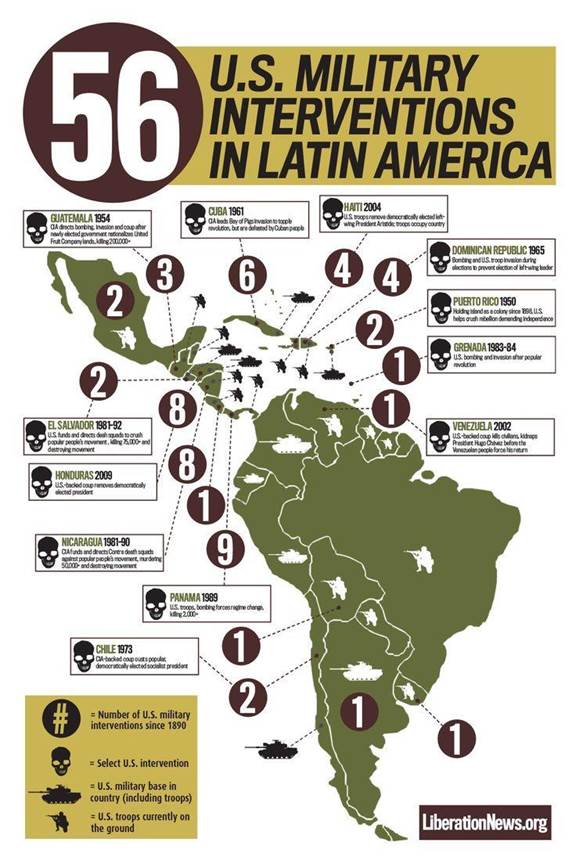 St Lucia gov't admits no quick fix for extra judicial killings by police
The St Lucia government says there is no "quick fix" into the alleged extra-judicial killings by members of the Royal St Lucia Police Force (RSLPF) and has accused the former administration of making a mess of the situation.
In 2015, the then Kenny Anthony government said it had received a report of an investigation carried out by the Jamaica Constabulary Force (JCF) into the alleged extra-judicial killings. The report, known as the IMPACS (Implementation Agency for Crime and Security) report, followed the probe into allegations of 12 unlawful killings by the police.

In August 2013, the United States suspended all forms of assistance to the RSLPF, citing allegations of serious human rights violations.

"The Department of State has made a policy decision to withdraw training and material assistance to the Royal St Lucia Police Force due to credible allegations of gross human rights violations," the US State Department said in a statement then.

Prime Minister Chastanet said that while he has greatest confidence in Greene, who is trying to get the IMPACS issue resolved "unfortunately the former government really made a mess of this situation".



Montserrat wants to remain British colony
Montserrat has asked the 'Special Committee on Decolonisation (C-24)' to withdraw the 2012 request to have the British Overseas Territory removed from the list of territories which need to be decolonised.
Premier Donaldson Romeo reported that by remaining on the list of territories which need to be decolonised, Montserrat will be assisted in receiving much needed support through the work of the committee, to which the United Kingdom government will be held accountable under the legal force of the UN Charter, Article 73.
He said it is on this very legal basis that the UK government agrees that the reasonable assistance and development needs of the dependent territories are a priority on the UK's development program.

Poverty Down dramatically in Jamaica
Finance Minister Dr Nigel Clarke yesterday informed Parliament of a 19 per cent decline in the rate of poverty in Jamaica in 2016, which he described as "the largest annual reduction" in a decade
According to Dr Clarke, the results released by the Planning Institute of Jamaica (PIOJ) showed that poverty, in an absolute sense, declined from 21.2 per cent for calendar year 2015 to 17.1 per cent in calendar year 2016, a fall of four percentage points, which represents a 19 per cent drop in the incidence of poverty, which he described as "the largest annual reduction in 10 years".

IMF pressure causes deadly riots in Haiti
Haiti decided to raise fuel prices as part of an agreement with the International Monetary Fund (IMF), which required the country to enact a range of austerity measures. As soon as the government announced that gasoline prices would rise by 38 percent, diesel by 47 percent and kerosene by 51 percent the unrest began.
Since then several deaths have been reported in Haiti as people rioted to protest thes huge increases in that poor country. The unrest prompted several major airlines, including American, Air France, Delta, Jet Blue and Copa, to cancel flights to Port-au-Prince
Following the unrest, Prime Minister Jack Guy Lafontant announced a temporary suspension of the double-digit government increases, roughly 24 hours after the price rises were announced.
However, the government's decision to back down did not keep angry residents from continuing to take to the streets. Some demonstrators erected flaming roadblocks, while others attacked hotels and businesses.

Haitians Won't Be Needing Visas to Enter Barbados Anymore
The newly elected Mia Mottley-led Barbados government has abolished the "illegal" visa requirement for Haitian nationals entering Barbados.
Minister of Home Affairs Edmund Hinkson said with Haiti being a member of the Caribbean Community (CARICOM), there was no logical reason to impose visa requirements on its citizens. He expressed shock upon learning that such a requirement was in place
"That is clear law . . . that was absolutely incorrect. If Haiti is a member of CARICOM and the Treaty of Chaguaramas speaks to non-discrimination and equal treatment, how can you have put on visa requirements on Haitians? Why do we do this to our own people?"
In Jamaica
This decision taken by Barbados to remove visa requirements for Haitians was raised in Jamaica. Jamaica has approved a protocol that will remove visa requirements for Haitians who wish to travel to other countries by way of Jamaica.
"The most recent thing that has been done by Cabinet is an approval of the restrictions that had existed in place, whereby if you are a Haitian businessperson travelling with a US (United States of America), Schengen or Canadian visa, and we have added UK (United Kingdom), you will not require an additional visa to enter Jamaica," Senator Kamina Johnson Smith said. "Cabinet has recently approved the process to ensure that that is implemented."
Jamaica's minister of foreign affairs and foreign trade added that, "apparently it was inconsistently applied, and this is in fact because of a Caricom (Caribbean Community) heads decision that was taken previously with the agreement of Haiti-recognising their infrastructural weakness at the time, and therefore needed to be phased in to allow that where a particular vetting process had already taken place that Jamaica recognised, through our own international arrangements, that we in turn recognise those".

Caribbean Airlines records 21% increase in revenue
Trinidad's regional carrier, Caribbean Airlines (CAL), is reporting a 21 per cent increase in revenue over the last year. This follows a seven per cent increase in the demand on passenger revenue.

"With a revenue boost from strong passenger demand and increased cargo business together with enhanced cost management, Caribbean Airlines got off to a great start in 2018.
The overall numbers show an increase of 21 per cent in revenue and 64 per cent in earnings year on year. The airline says other areas of growth included Cargo – with 21 per cent increase in revenue and passenger revenue that drew by 22 per cent.

According to CAL, the On Time Performance (OTP) also averaged 85 per cent within 15 minutes on the air bridge for this period.
Let us know what you think. Email us at hotcalaloo@yahoo.com