Vo. 1

Leave the Rat Race to the Rats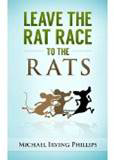 America boasts about its grand quality of life while the ghettos wallow in despair and neglect. The residents of these poor black ghettoes must put up with conditions such as inferior education, slave wage jobs, high unemployment, no health insurance, high crime rate , unjust hostile policing, political impotency. My book, "Leave the Rat Race to the Rats", is a blueprint for transforming the dismal American ghettos by abandoning the rat race culture for the goodwillism of the goodwill revolution. For example, we are told that education and hard work is the way to achieve the American dream. But, not in the ghetto. Instead, rat race education reinforces feelings of inferiority and makes dropping out seem very attractive. With the highest unemployment in the land and with most jobs in the ghetto failing to provide a living wage, permanent employment, benefits and security, too many workers lose hope, their dignity and self-esteem.
Available for $2.99 at:
Barnes and Noble Nook
Apple i-tunes
Kobo Books
Vol. 2

Tackling Crime and Policing in the Ghetto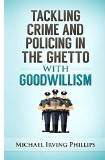 The greed and the ruthlessness of the rat race serve as a catalyst for crime. Crime is a major factor for the misery of ghetto life. Ghetto residents live in fear of criminals. They live in fear of gangs. They live in fear of police brutality, ranging from beatings to murders of innocent unarmed people. The Goodwill Revolution to the rescue. Goodwillism is a term for the principles of the Goodwill Revolution. So, goodwillism will do the impossible. It will resuscitate, reinforce and mobilize the inherent goodness of the residents, so that combined with a good dose of common sense, in the ghetto:
Criminality will decline

Recidivism will decline

Black-on-black crime will becomes black pride

Gangs will choose to do good instead of evil

Ex-cons will embrace real rehabilitation

Instead of the hostility, arrogance, brutality and abuse of power, the police will fulfil their role as protectors and so earn the trust, cooperation and respect of the ghetto community.
Available for $2.99 at:
Apple i-tunes
Kobo Books
Vol. 3 Overcoming Political Impotence in the Ghetto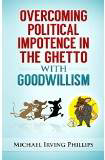 Let's be brutally honest. The rat race has been catastrophic. Our American democracy is in shambles. This is no accident, but is the result of a deliberate calculated plan by our un-elected rulers, the 1% richest people in America. They dictate to us, the hapless 99%. So, instead of government of the people, by the people, for the people, we have government of the 1%, by the 1%, for the 1%. Because of this 1%, Americans are suffering from ED (election dysfunction) resulting in political impotence. The Goodwill Revolution is the political Viagra that will restore their potency. Political impotency is at its worst in the ghetto. Too long the ghetto has been ignored and forsaken because of this. By rejecting the rat race and adopting goodwillism we will mobilize the ghetto and change that completely. "Overcoming Political Impotence in the Ghetto With Goodwillism" will show us:
How to take stock of the existing situation

How to recognize, identify and cope with our enemies

The importance of political power

Political and economic strategies to overcome political impotence

How to turn apathy into activism
Available for $2.99 at:
Barnes and Noble Nook

Apple i-tunes
Kobo Books